As spring time seems to be slowly making its appearance here in the Pacific Northwest, I notice that I naturally start to crave less heavy, comfort style foods and instead am drawn towards lighter fare like salads. I have not always been a fan of salads though, in fact I used to downright despise any lettuce other than iceberg (which might be a questionable form of lettuce) or Romaine lettuce. Every other kind of green was equated to being slightly more edible than dirt itself in my opinion.
However, as my tastebuds have improved (or matured) I now find that there really isn't a lettuce that I don't enjoy. This is good news for me and anyone else looking to increase their daily veggie intake as salads are one of the easiest ways to get all 5-9 servings of fruit and veggies in.
One thing that I particularly love about salads is that you can mix and match any and every possible ingredient you can think of, and you can make them as big as you desire. Thus making them a good meal option.
Over the past few weeks I've become a little more adventurous with my salad fixings and here are two of the recipes that I think deserve a little highlight:
This Pizza Salad  we found on the Team Beachbody blog when searching for some new, healthy recipes was delish. My kids didn't complain because it was just enough like the real deal, they still felt like they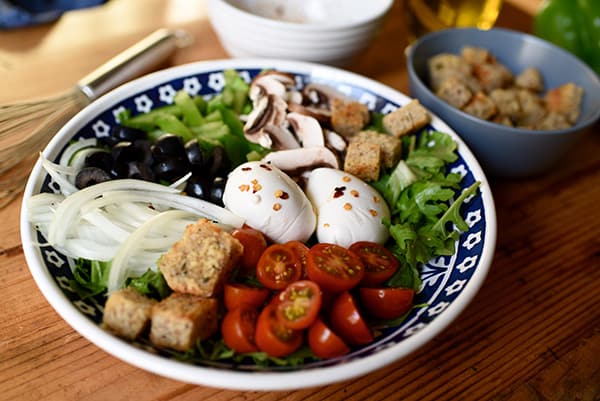 got to have their pizza. I liked it because it got us all eating a little move veggies that day. Win-win? I think so! *Note, we did add some salami to ours, but I think that chicken would have been just as good and probably a little more filling with the added protein. And you could always sub the croutons for a whole wheat pita as well.
This Asian inspired salad combined some of my favorite flavors from both Thai and Korean food in a bowl, and was light enough that I didn't feel like I blew all of my calories in one meal.
Ingredients:
Romaine lettuce
Shredded carrots
Diced cucumber
Green onions
Roasted sweet potatoes
Peanut sauce dressing: 1 T. rice wine vinegar, 1/2 T. soy sauce, 1 T. peanut butter, 1 tsp. sweet chili sauce (may need to adjust according to your taste preferences)
For the turkey patties we used this recipe except I omitted sesame seeds (we didn't have them on hand and used 99% lean turkey instead of beef)
Preparation: make your salad with the greens and additional veggies, prepare the turkey patties and cook thoroughly, roast sweet potatoes until done. Fix the dressing by mixing all ingredients ( I have found a mason jar with a tight sealing lid works well). Serve all ingredients in a bowl or on a plate and enjoy!
For more information on Team Beachbody products or programs fill out the form so we can connect! Summer is just around the corner, and if you're anything like me, you want to feel good rocking those cute summer outfits with confidence.